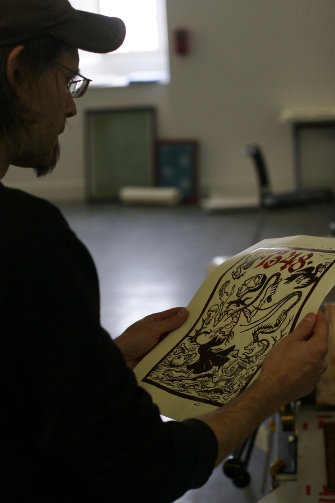 I just returned from a very, very inspiring week at the French salt mines. Well, a historical museum devoted to the salt mines of past times, in Arc-et-Senans to be precise, where the Pierre-Feuille-Ciseaux festival was held for a second time. Here is some info on the participating artists:
http://www.pierrefeuilleciseaux.com/?page_id=6
While there was much emphasis on the typically French OuBaPo phenomenon (conceptional comics following playful limitations in the spirit of writers like Raymond Queneau and Georges Perec), I concentrated on doing linoleum cuts with the guys from the Hoochie Coochie crew, from Paris, who brought their press and tools. Here is a lino cut version that I did from the pic posted on August 31st.