As per Aeron's suggestion, my next post following this theme will probably be in regards to the Krampus, I'd forgotten all about them, including their name to begin with. However it is
way
too goddamn easy to find imagery depicting the famous style of mask worn during the traditional carnivals in Venice. Perhaps my favorite variety of mask; yes, I'd wager even more so than those made traditionally in Japan. The Mediterranean and the Far East are tied in my personal first place preference of mythological bestiary. Long before photography was a mere speculative technology of some far-flung imaginary future, the festivals of old Venice were said in some sources to be wild, unhinged, and at-times orgiastic affairs more akin to ancient pagan Bacchanalia than bourgeois family-friendly carnivalia; as beguiling, mysterious, and depraved as the masks first worn by royal-blooded or silver-tongued revelers and now by wealthy tourists in this fallen age. What strange sights I could capture if I had a time machine (and some knowledge of how it worked), a black&white camera, and the quiet stealth of a ninja.
http://flemmens.deviantart.com/
http://flemmens.deviantart.com/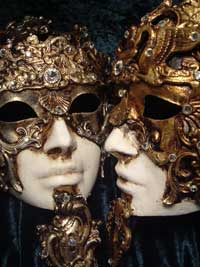 For those who've recognize these from Eyes Wide Shut. Probably everyone.