I haven't posted any artwork here for a long time. It's not for a bad reason, either; I haven't been making any.
I try though. I sure do. I get ideas. I sketch. I get excited about those ideas
And then I sit down to do it. To get it done. I'm not distracted, I'm not stressed or tired. It just doesn't look good to me.
It never really does. Some of it looks okay, I guess, but what good does that do anyone?
But I keep trying and trying, and it just..slowly..disentegrates...
And it doesn't seem worth it after a while, to be honest.
The next day I'll go in and look over what I'd done the previous day and it looks foreign, like some alien artifact; What was that guy thinking when he drew that?
I have no idea.
Flaccid. Fallow. Forget it.
And then I get to thinking about other medias, other forms I should go after; Maybe purely digital works, collage, maybe screen-printing .Maybe I should learn FLASH.
Maybe I should just write.
Maybe I should forget about feeling like I have to do any of this stuff. Don't other people live like that?
What does it mean to be "creative"? It sounds like fun, but vanity works like that too. What might I be missing out on while I'm burrowed away in a corner, scribbling and scratching?
Maybe I should get a dog.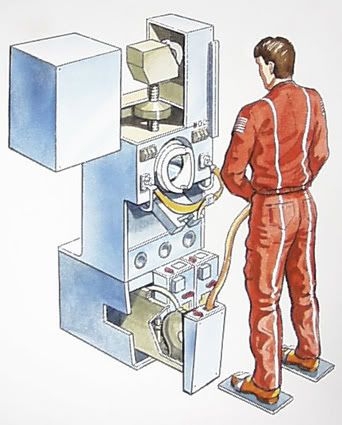 I hope this next years proves to be more fruitful. Even if that means I leave all of this stuff behind. I