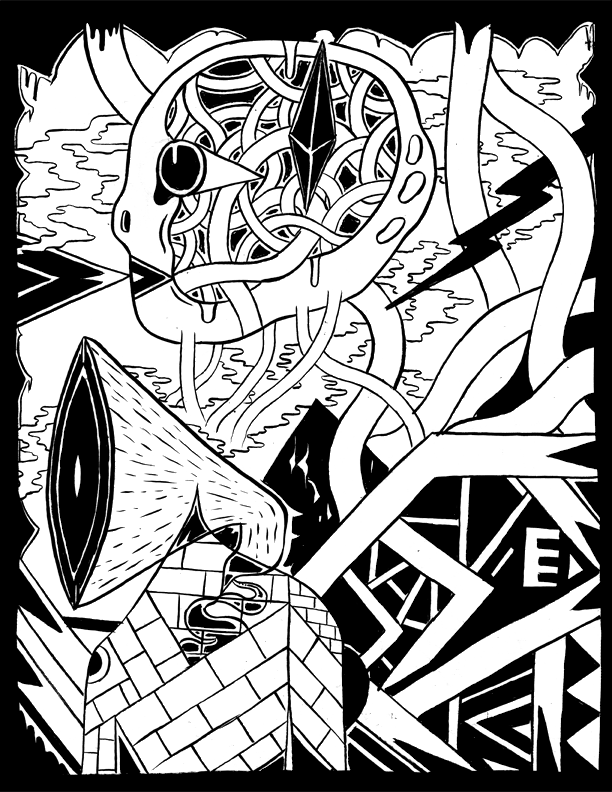 So I spent a few hours this morning coloring this guy on Photoshop. I was groggy, for reasons I'll explain later. Like me at my last shit job, Photoshop "Unexpectedly Quit". Wasted hours. I even tried out some new techniques that seemed to be working pretty well. Not sure if I'll even remember how they went. I also cleaned up some of the line work using Photoshop.
-So what you see here is a raw scan.
I mentioned to a new friend who's also a drawer that I do that - fix stuff on PhShop- and he looked at me like I just told him I think the new Nickelback album is pretty sweet. I felt some weird sense of shame for a second and then came-to; This drawing is for print. It's not meant to be hung anywhere. The guy is kind of an aging punk/indie type guy, so maybe he carries some bias form the glory days of "diy", that indie ethos. What do you guys think? Is it "cheating"? I used a non-repro blue pencil on this thing and I loved it.You can have a mees of lines underneath everything, but it gets washed out looking under your eyeballs as you ink.You could call that a form of cheating if you took the line of thought to it's logical end.
He does pretty good art though. No web presence to speak of. He does a kind of tattoo flash thing mixeed with UG comics of yore.
***********
I mentioned to Aeron quite some time ago about "drawing with fire."
I kind of wanted to keep it secret, imagining some big reveal.You have to understand that I was really absolutely sick of looking at and applying black lines of ink on white paper. I wanted something distinctly different. I'm not big on painting.I don't have facilities for etching,and it needed to be drawing-based, etc. At some point it hit me: Woodburning. "Pyrography" is the actual term, which sounds pretty cool, I must say.
So I looked into it and a week or so later I bought a Woodburning set-up:
It was sort of expensive, yeah. I enjoy it a great deal, but it takes some getting used to.It's a really bizarre feeling to burn these perfect lines into wood.
I haven't finished any so far that I think are very good. Here are a couple of attempts:
-This one I pencilled out and I like it okay, I just don't know how to finish it. I was experminting with the various "nibs" that came with the set during this one, which wasn't a great idea. I was a little too eager, maybe. If you refer to the pic of the kit, you'll see those tubes with the red caps. Those are the "nib" ( actually called "tips") containers; lines of various thickness, different "shader" type tips, etc.
The process, when done correctly, is actually a lot like tattooing: Pencil on paper, transfer paper, apply it to wood, etc.
I haven't done it all the way through yet, for a number of reasons.
-This one quickly devolved into a sketchbook page on wood. It's a good way to learn what not to do.
I plan on doing a lot of this over the summer. I'm a little reticent to describe exactly where I want to take it, but roughly speaking I think I want to do a kind of ornate/decorative/ geometric kind of thing, with a certain rawness to it.I've even thought about finding ways to age the wood after I've burned on it. I want it to be some kind of arcane artifact or something.
Most people who burn do a kind of craft at the cabin thing with it, a lot of bad wildlife art. The more contemporary guys I've seen who burn ( I was kind of dismayed to note that a number of contemporary artists do woodburning, hate to say.) do a kind of ironic play on the crafty cabin thing.Not at all what I'm after.
I have already planted the seed in a friend of mine, a guy I grew up with who came home to MN for a visit a while back. I think he posted some pics on
his blog
( If any of you guys skateboard, you might now who he is.). You'll have to scroll, I imagine. He's burning on old leather bags, which is pretty cool.*
You can also use various color wood stains and even watercolor on woodburnings, something I'll definitely explore this summer.
That's if this guy doesn't chew the shit out of my wood:
-We just got him yesterday.
I'm trying to squeeze in too much info here: My significant other and I just bought a house. That's why I haven't been posting much. We moved in maybe 3 weeks ago and it's been pretty chaotic. We couldn't help but immediately add to the chaos by picking up the little monster at the pound yesterday.( Did you know they put microchips in dogs at the Humane Society nowadays?) He's a Boxer mix of some kind, probably with a generic Retriever or something.
This is why I didn't sleep last night. I'm hallucinating right now from lack of sleep..
You guys got any name suggestions?
He enjoys running awkwardly on hardwood floors, pooping, and looking unutterably cute. I wonder if, in a parallel universe, that Earths HP Lovercraft wrote about things so cute they destroyed minds?
********************************
Did I mention that I'm pretty psyched on EBD right now? We've got great new members and one on the way that I'm a big fan of. Tonight I'm going to work on a banner, and I invite any of you who're interested to do the same.We'll throw up that code
that cycles through the banners.
* I just scrolled through his photo blog a bit and couldn't find the image in question.I know it's there, but you're in for some serious scrollin' if you want to look for it.
*********************