So, as those who've been around these parts for some time know, I'm kind of a terminally confused guy when it comes to making art. I like so many different things,and enjoy making all different kinds of images, but I'm also all too able to decide that whatever I'm up to has some kind of essential flaw to it; If I'm making noisy, raw looking stuff, I'm not drawing the clean, refined lines that I like to make, when I draw some grotesquerie or another, I'm thinking about how some genuinely beautiful ornament should be in its place, vice- versa, etc., etc..
I'm always maybe a little too concerned that I'm not looking at what I'm doing objectively, unable to come up with a measure outside myself.I can obsess over some tiny aspect or concern in a drawing and later realize that it made no difference whatsoever . Myopia isn't exactly the hallmark of good work, I don't think. But maybe that's more interesting than anything else?
And I worry over motives: What am I trying to achieve, exactly? Is it simply a matter of pleasure in making marks on paper? Should I try to wrap up actual concerns in my drawings and present them to the viewer? Does that come off as didactic? Does it eschew the genuine confusion and uncertainty that I hold when it comes to everything I've ever thought? Am I even capable of presenting concerns in any real way?
Maybe this is normal. Maybe that's why artists seem to be a little alienated.
But I write this cause I'm interested- and it might be a little indulgent, I realize- in what you guys think of my various approaches. The great thing about blogs like this is that if any of us feel that need for getting a feel of what others' think of your stuff, we can do it here. I don't get that in my daily life. My girlfriend pretty much tells me everything I do is great and none of my good friends are that interested. They like beer and guitars and Bill Hicks. Like most normal people, doing little drawings in your spare time is seen as a pleasant little diversion.They like it when I draw huge tits with metal logos on them.Thats my greatest hit with these goons ( I love 'em, but yeah).
On a really basic level I wonder if I've just lost the passion.I imagine guys like Matt and Aeron hunkered down in their caves, knowing exactly what they want to do and doing it, engaging with drawing in a way that I did at one point, where I just shut stuff out and did it.
Samples: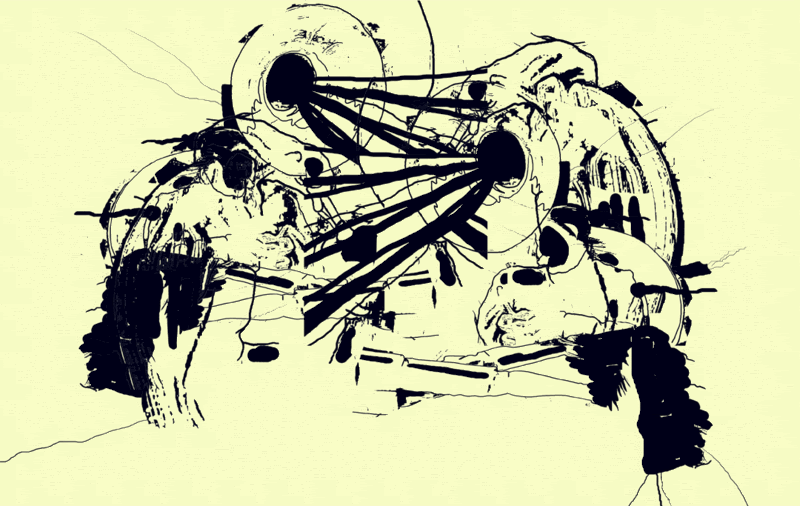 -Click to Engorge.( each of em)