Maybe six moths ago, I happened upon a huge school of art that I had no idea existed. It was meaningful to me , because a) a huge amount of the material was amazingly similar to what I was after in my own artwork in terms of tone, style and subject matter (only much more succesful) and, b) they are all Poles, as am I.
It seemed like a really meaningful synchronicity. It still does. It made it seem for a little bit that I was a part of something much bigger than myself- this connected me to a tradition of sorts, which is important to me ( not for the sake of it though- maybe I'll post about it someday.It's complicated..)
A number- maybe the majority, even, tend to depict the bizarre and fanastic ( or presnt the mundane in a fantastic light , like the dog playing soccer image below, by Zakowska.) but they tend to do so in an earthy way- sometimes it's humourous, even. They'll apply near cartoon quality; soft or bulbous shapes to depict what in more classical forms would show up as heroic or exalted or in early modern art as ultra-serious, existential; plenty of skulls, images of war, monsters, etc.
Before I start dropping links, I want to let you know that I gathered almost all of them from our own Aeron Alfrey's
MONSTER BRAINS
, an awesome resource. He discovered all of this stuff during the same period. You can find his list Polish poster Artists
HERE
.
The artists I'm posting here are but a few of the many, many odd and cool Polish Poster Artists from the 50's-80's ( maybe they're still going?)
Jakub Erol-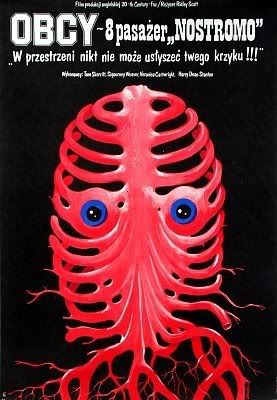 Danuta Zakowska-
-( I own a copy of this one.)
Mieczyslaw Gorowski-
Look into it. It's good stuff.